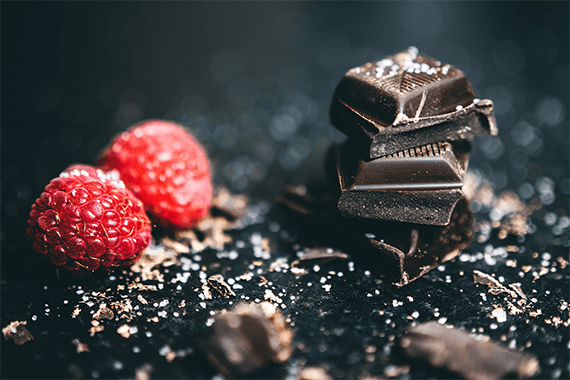 Everyone loves getting treats for Valentine's Day. Call us sappy and nostalgic, but our favorite memories of this lovey-dovey day all involved grade school, drop boxes, and little candy hearts.
Of course, going plant-based inevitably comes with a harsh reckoning: Most candy, especially chocolate, contains dairy and other animal products. Gasp!
Not to worry though, we've been there and we got your back! Just because your plant base doesn't mean you can't enjoy candy and treats on Valentine's Day. We've compiled our 4 favorite recipes below so you can keep your Valentine's Day sweet, savory, and delicious.
Give these a try and drop a Comment below to let us know what you like most. Or, give us a shout on Instagram @electricsoulmedia!
1. Coconut Cookies
This recipe originally appeared in our 2017 Vegan Thanksgiving Cookbook—it's a free download, in case you haven't snagged a copy yet! These cookies are one of our favorite vegan treats for Valentine's Day. Pairs perfectly with tea, wine, and other romantic goodies!
Ingredients
1 cup nut butter. We used crunchy almond butter
Liquid or granulated stevia to taste. We used about ¼ cup granulated
1-1.5 cups unsweetened, shredded coconut
2 tablespoons coconut oil
Directions
Line a baking sheet with parchment paper.
Melt the coconut oil.
Add coconut oil and nut butter to a mixing bowl. Stir until thoroughly mixed.
Add stevia and mix. Taste test batter because it is delicious.
Add shredded coconut to mixture and combine.
Drop tablespoon size mounds onto the baking sheet.
Place sheet in the freezer until solid (about 15 minutes). We recommend leaving them in the freezer until you're ready to head out.
Box them up and place them in a cooler with ice packs for the trip.
2. Raspberry Truffle Brownies
Originally appeared on Forks Over Knives, this recipe looks amazing! We prefer fresh raspberries, although FOK notes that either fresh or frozen will do just fine. Remember to let these bad boys cool after baking!
Ingredients
1 cup raspberries
4 ounces unsweetened chocolate (chop into pieces)
½ cup raspberry jam
½ cup applesauce (unflavored/ unsweetened)
1½ cups whole wheat pastry flour
½ cup cane sugar
¼ cup unsweetened cocoa powder
¼ teaspoon baking powder
½ teaspoon baking soda
¼ teaspoon salt
2 teaspoons vanilla extract
½ teaspoon almond extract
Directions
Preheat the oven to 350ºF. Line an 8 x 8-inch pan with a 10-inch square of parchment paper or have ready an 8 x 8-inch nonstick or silicone baking pan.
Melt the chocolate in either a double boiler or the microwave. Set aside.
In a large mixing bowl, vigorously mix together the jam, sweetener, and applesauce. Stir in the vanilla, almond extract, and the melted chocolate.
Sift in the flour, cocoa powder, baking powder, baking soda, and salt. Mix very well until a stiff dough forms. Fold in the raspberries.
Spread the mixture into the prepared pan. It will be very thick; you'll need to use your hands to even the batter out in the pan.
Bake the brownies for 16 to 18 minutes. Remove them from the oven and let cool completely. These taste especially good and fudgy after being refrigerated for a few hours.
Tip: Allow these brownies to cool for at least a couple hours prior to serving!
3. Chocolate Cherry Non-dairy Cobbler
Another goodie from Forks Over Knives. In case you can't tell, we LOVE their taste! Speaking of love—cobbler? For Valentine's Day?! Sign us up.
Ingredients
Raspberry Cream
2 cups fresh raspberries
3 tablespoons pure maple syrup
1 (12-ounce) package firm silken tofu
1 tablespoon fresh lemon juice
Chocolate Cream
1 (12-ounce) package firm silken tofu
1/3 cup unsweetened cocoa
¼ cup pure maple syrup
½ teaspoon pure vanilla extract
¼ teaspoon sea salt
Directions
To make the raspberry cream, combine the raspberries and maple syrup in a small saucepan. Cook over medium-low heat until the raspberries start to break down, about 10 minutes.
Transfer the mixture to a blender. Add the tofu and lemon juice, and blend until smooth and creamy. Transfer to a bowl, cover, and refrigerate the mixture until completely cool.
To make the chocolate cream, place the tofu, cocoa, maple syrup, vanilla, and salt in a blender. Purée until smooth and creamy.
To serve, fill six (6-ounce) parfait cups halfway with the chocolate cream. Fill the ramekins the remainder of the way with the raspberry cream.
Chill for 1 hour before serving. The chocolate and raspberry layers can be made separately 1 day ahead and then assembled to serve.
Just before serving, garnish each ramekin with a few of the fresh raspberries.
Get lost with us.
Sign up for the Wednesday Wander Newsletter. This once-every-sometimes newsletter features our newest travel guides, videos, and exclusive deals from our ethical partners—all free.
Sign up for the Wednesday Wander.