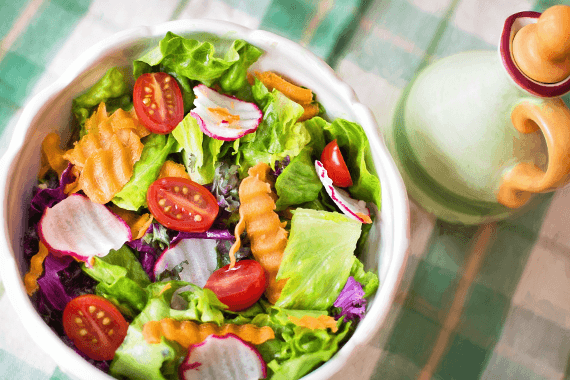 As our Team Nutrition Coach loves to remind us, you gotta eat the rainbow.
Why? Going out of your way to eat a variety of brightly colored fruits and veggies is the surest way to get all your essential vitamins, minerals, trace minerals, as well as various phytonutrients the body needs to feel amazing.
Plus, it's more fun than ordering the same old Earth tones, don't you think?
This is most certainly what our ancestors naturally did, and it kept human beings alive and thriving for hundreds of thousands of years.
But really, we love eating the rainbow because it makes us feel tropical. Even on the coldest afternoons— our hearts and minds wandering to memories of some far-off island, or mountain, or village— a rich and colorful meal is an escape that we treasure.
Here's a recipe inspired by our Seed to Soul digital program (coming soon!).
Eat the Rainbow Salad Recipe
Ingredients
As with most salads, don't be afraid to get creative! Our ingredients are listed below, but feel free to spice things up with your own fresh favorites.
8-10 cups of greens*
Red, yellow, and orange bell peppers
Cherry tomatoes
Green onion
Cilantro
Hemp seeds
Pecans**
Sliced Avocado
Extra Virgin Olive Oil
Balsamic Vinegar
*A note on greens: Romaine and Boston Red Leaf are our favorites, but whatever is seasonal will work best. Go for things that are fresh, crisp, and range in color from deep green to burgundy
**Can substitute sliced almonds, walnuts, or omit entirely if allergic.
Directions
Here are some tips to make sure your salad is both delicious and Instagrammable.
Rinse, dry, and chop your greens.
Chop onion, cilantro, peppers, tomatoes and avocado; set aside.
Place greens in large salad bowl and toss with EVOO and vinegar. Note: May substitute for another dressing, as desired.
Once the greens are dressed, place chopped onion, cilantro, peppers, tomatoes and avocado on top.
Sprinkle with pecans and hemp seeds.
That's it. Simple, fast, and delicious. Enjoy!