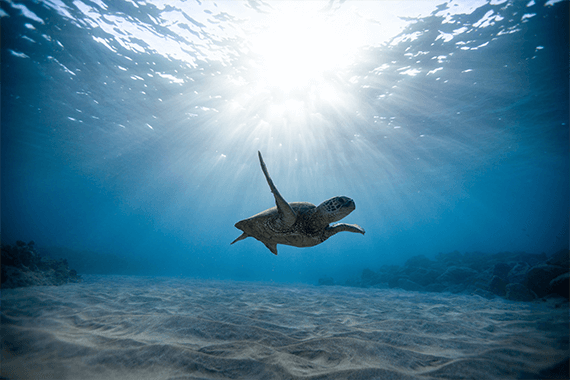 "If you experience nature, you start to build a relationship with it, you start to understand it a little. And hopefully, you'll realize that you are also a part of nature. Not separate from it. And what you do and the choices you make impact all of it and all of us."- Eric Curtis, Aulani Resort.
Who loves Disney? We do. We do! Disney is the coolest, and what makes it even cooler is the conversation and sustainability woven into Disney Parks and Resorts. Not only does Disney actively work toward their environmental goals, but they educate their guests and fans on the importance of protecting the world we share.
This Earth Month, Disney created a new series called Field Notes, where they take us on an adventure to different destinations around the world. Field Notes shows us how cast members utilize resources within the park to affect the world outside of the parks. All aboard! First stop is Disney's Aulani Resort in Hawaii.
Rainbow Reef at Disney's Aulani Resort is a saltwater lagoon with a 3,800-square-foot reef and thousands of tropical fish. Guests can observe the reef through a viewing window, or snorkel among the lagoon's waters and observe marine life. Cast members use Rainbow Reef to educate guests on the importance of coral reefs in sustaining diversity in our oceans, as well as the fragility of reefs. Coral reefs are a very important part of diverse marine habitats which are vital in sustaining a healthy planet. Humans are interconnected with the ocean, and our daily practices affect the health of marine life. As Aulani's Rainbow Reef shows us, coral reefs are full of character, full of life that is important to our planet for future generations.
Heading to Disney soon? Check out our favorite plant-based dining options at Walt Disney World Parks and Resorts.
Mahalo and we'll see you real soon!