Top Picks for Vegan Restaurants in Sarasota
Looking for the best vegan restaurants in Sarasota? We got you covered! The plant-based and vegan restaurant scene in Sarasota has exploded with the city's growing popularity. Sarasota has become the place to be. It is the city to see and be seen, making the Best Vegan Restaurants in Sarasota a total knockout. We might be biased, but Sarasota has some of the best vegan restaurants and plant-based meals we have ever tried. The city that was once known for its retirement community and early bird specials. It was common to hear, "I know Sarasota. My grandparents live there." Not exactly the cool, sexy vibe most millennials wanted to hear. However, the face of Sarasota has changed.
It is on the map for young professionals, families, beach lovers, and artists. Sarasota is also becoming a buzzword among pop culture thanks to the MTV show, Siesta Key. That topic is for another time…
Since the beginning of the pandemic, Sarasota's growth has exploded. Season is less of a thing and a steady buzz can be felt around the city. And with that buzz comes more dining options, including a greater demand for vegan and plant-based restaurants.
Sarasota is home to some killer vegan, plant-based, and vegan friendly restaurants. With the sudden growth over the past year and a half, more options have popped up. Plus, established restaurants have expanded their menus to include more vegan options. Yes, we are very excited. We are so excited that we are eating our way through the city… for research purposes, of course.
Here are our top picks for the best vegan, plant-based, and vegan-friendly restaurants in Sarasota.
Lila
Restaurant type: Vegan-friendly
Lila is located on Main Street in downtown Sarasota. Lila is a vegan friendly, environmentally conscious restaurant that supports local organic farmers. Lila is known for their creative plant based menu, and is a great spot for creative sessions, lunch meetings, date nights, and get togethers. She is the effortlessly chic vegan-friendly restaurant in Sarasota.
Simon's Coffee House
Restaurant type: Vegan-friendly
Simon's Coffee House is located on US 41, just north of Gulf Gate Gate and the south bridge of Siesta Key. Simon's is a family owned and operated restaurant that serves farm fresh dishes. This casual breakfast/lunch spot has been a favorite among locals for years. The menu changes daily and offers vegan, vegetarian, gluten free, and raw options. Their vegan dishes are innovative and globally inspired.
Simon, the owner, is usually seen greeting and seating guests. He is generous with his knowledge of vegan and plant-based dishes. We learn something new every time we go. That deserves major points in our book.
SoFresh
Restaurant type: Vegan-friendly
SoFresh is located downtown, across the street from Whole Foods and close to Main Street. If you like the option to build your own meal or choose from a predesigned menu, SoFresh is your spot. Extra zucchini noodles? No problem. The counter service restaurant offers vegan and plant-based options for breakfast, lunch, and dinner. The vegan pesto is one of our favorite things on the menu. We could drink it straight from the container. We haven't yet though. We swear.
Nutritious You- Plant-based Cafe
Restaurant type: Vegan and plant-based
Nutritious You is located on Midnight Pass Road on Siesta Key. The name says it all. Nutritious You is a plant-based cafe offering vegan and gluten-free foods to grab and go or enjoy at the cafe. They offer items such as smoothies, acai bowls, espresso, a juice bar, salads, bowls, wraps, and some insane dessert.  We love that it was started by a couple who noticed a need for vegan options on their travels. We can relate. Grab something tasty and head over to the beach. Siesta Key was voted one of the best beaches in the world and we 100% agree.
Green Zebra Cafe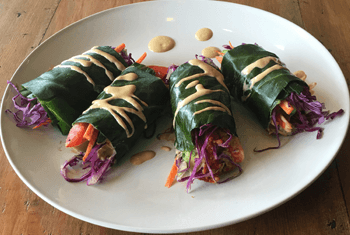 Restaurant type: Vegan-friendly
This vegan friendly gem has two locations, one is on St. Armand's Circle and the other is on Main Street in downtown. St. Armands is a casual, counter service restaurant that is open for breakfast, lunch, and dinner. The downtown location is full service with a bar and outdoor seating. Green Zebra is locally owned and operated, serving vegan and raw options.
Why do we love it? Aside from the ridiculously good food, it's eco-friendly. The furniture is repurposed and the materials are recyclable. Besides, have you ever been to St. Armands Circle? Enjoy a stroll around this Sarasota mainstay before or after you check out our friends at Green Zebra. You won't be disappointed.
Extra points: Time things just right to catch the sunset after dinner. Sarasota is nestled along the western coast of Florida, so watching the sun melt into the ocean's horizon is priceless.
Pa Kapa Cuisine
Restaurant type: 100% Plant-based and Vegan
Pa Kapa is located in Southside Village, just a few shops north of Morton's Market. Pa Kapa is 100% plant-based and vegan, and their website states they are the first of their kind in Sarasota. The restaurant is family-owned by a mother and daughter duo in honor of their late father and husband. That is something we wholeheartedly support. The food is globally inspired, healthy, and made with love. It is hard to choose with menu items such as Shiitake Escargot and Maryland Style 'Crab' Cakes.
Leaf and Lentil
Restaurant type: Vegan
Leaf and Lentil is located west of US 41 near the Ringling College of Art and Design. Leaf and Lentil is a family owned restaurant offering locally sourced ingredients and gluten free options. The casual restaurant offers a chef inspired menu that changes frequently. Their fresh, flavorful, and filling meals are available for lunch and dinner.
Ionie Café
Restaurant type: Vegan
Ionie Café is part of the Ionie Mind and Body Retreat. The café serves raw, vegan, gluten-free dishes that are made fresh to order. Grab a crystal light bath before or after your meal. Ionie believes that a raw vegan diet can heal. You will too after eating here.
Beauty of Sprouts
Restaurant type: Vegan & raw vegan
This cozy, raw vegan restaurant is in downtown Sarasota. The owner, Rano, is the chef and server. Her passion for her food is contagious. Beauty of Sprouts is a casual spot for lunch or dinner. Table for one? Don't sweat it. Rano will educate you on method behind her magic.
Blu Kouzina
Type: vegan-friendly
Blu Kouzina is located on St. Armands Circle. The Mediterranean restaurant offers vegan options that make you feel like you have traveled to another country. The food is flavorful and the restaurant is lively. Outdoor seating is available, which is particularly charming during winter.