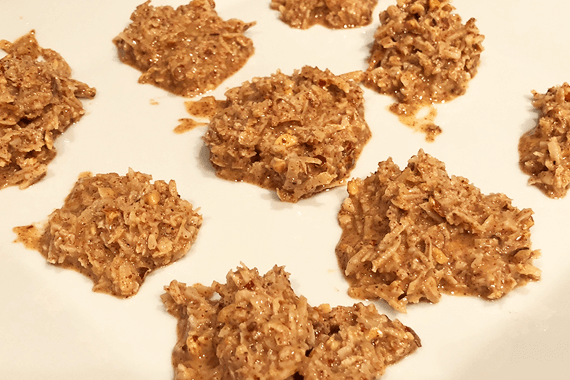 Heading out on a road trip without snacks is like navigating without a GPS. It sounds doable, but we don't recommend it. If you're navigating with Rand McNally maps, we will get to that another time (because that is awesome).
Should you accidentally leave home without snacks (gasp), you might be hard pressed to find vegan snacks at a gas station. Vegan snacks are becoming more accessible when traveling, but we like to be prepared. Virgo prepared. So, we love making vegan travel snacks to bring with us on adventures. We also have a sweet tooth, so there's that…
This recipe is the love child of our Vegan Nut Bars and Vegan Macaroons. Pack a cooler with ice packs and load these babies up. They are vegan, bake free, and easy to whip up while you're packing!
Ingredients
1 cup nut butter. We used crunchy almond butter
Liquid or granulated stevia to taste. We used about ¼ cup granulated
1-1.5 cups unsweetened, shredded coconut
2 tablespoons coconut oil
Directions
Line a baking sheet with parchment paper.
Melt the coconut oil.
Add coconut oil and nut butter to a mixing bowl. Stir until thoroughly mixed.
Add stevia and mix. Taste test batter because it is delicious.
Add shredded coconut to mixture and combine.
Drop tablespoon size mounds onto the baking sheet.
Place sheet in the freezer until solid (about 15 minutes). We recommend leaving them in the freezer until you're ready to head out.
Box them up and place them in a cooler with ice packs for the trip.
These Electric Coconut Cookies are a vegan travel snack that is easy to make and easy to pack up. Warning- they also are very easy to eat.
What do you think?
Drop us a line on Instagram or in the Comments section below and let us know what you think. Don't forget to tag @the_electric_soul on Instagram—we want to see what you whipped up!