It's that beautiful time of year when the leaves change, the weather cools, and Epcot presents the Food and Wine Festival! From August 30th to November 12th, Epcot features some of the best chefs and dishes from around the world.
Finding vegan options at the annual Food and Wine Festival is a bit trickier, but we've got you covered.
Whether you have a whole day (or 3 hours like we did), these are our top vegan picks for the Epcot Food and Wine Festival 2018.
Earth Eats
With the plant-based and vegan movement on the rise, it's only fitting that the Epcot Food and Wine Festival offers a vegan burger.
The Impossible Burger is popping up everywhere, and Epcot is no exception. The Impossible Burger Slider is served on a sesame bun with wasabi cream and spicy Asian slaw. We know what you're thinking—don't worry, the wasabi cream is made with vegan mayo! Earth Eats is located in Future World in Next Eats. Mushrooms are provided by The Mushroom Council. Yes, that's a thing. And yes, our minds were blown too.
Greece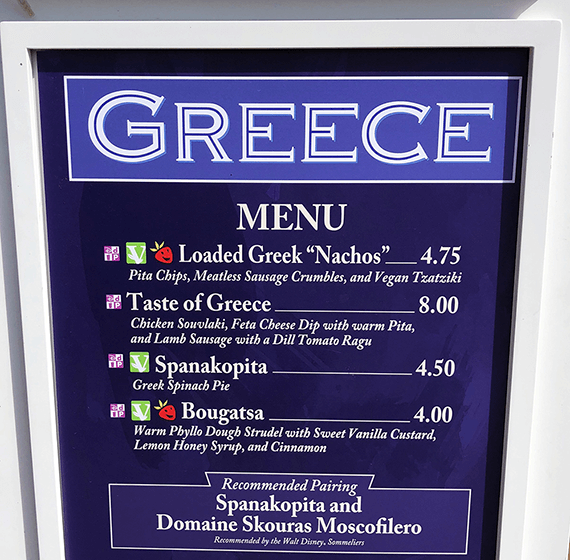 It might be our roots, but we go crazy for Mediterranean food. Greece is bringing all kinds of vegan creativity to a well-known dishes. Loaded Greek Nachos, Pita chips with meatless sausage crumbles, and vegan tzatziki are just a few examples. Greece is located in the Showcase Plaza, close to Mexico. It's also a hop, skip, and jump away from the Frozen ride in Norway.
Morocco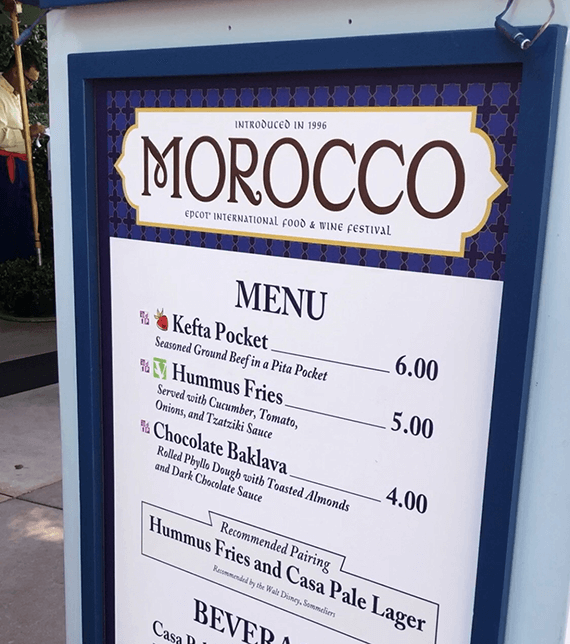 Morocco is one of the liveliest spots at the World Showcase during the Food and Wine Festival. You will find live music, dancing, and lots of smiles. We danced, ate, and danced whilst eating. Try the Morocco Marketplace Hummus Fries, served with cucumber, tomato, onions, and tzatziki sauce. Make it vegan by ordering it without the tzatziki.
Africa
There's nothing like the vibrant flavors and textures of African cuisine. Ethiopian food tends to be very vegan friendly. If you haven't tried it, the Food and Wine Festival is a great opportunity to sample Ethiopian food. Check out the Spicy Ethiopian Red Lentil Stew with vegan yogurt and quinoa. It's filling and boosts a little kick.
The Almond Orchard Hosted by Blue Diamond Almond Breeze
We love that a non-dairy alternative has such a big presence at the Epcot Food and Wine Festival. The Banana Almond Soft Serve Sundae is vegan if ordered with the chocolate almond streusel. It comes with fresh berries which, in our opinion, makes it a perfectly acceptable snack for breakfast, lunch, or dinner. The Almond Breeze Strawberry Smoothie is another sweet treat that serves the vegan crowd.
Refreshment Port
Walt Disney World is known for its Dole Whip. It's synonymous with vegan Disney, inscribed in the Vegan Disney Manifesto (wherever that might be).  Refreshment Port at the Epcot Food and Wine Festival offers the infamous pineapple soft serve. Full disclosure- it is not low in sugar. One of these will keep you buzzing around the park for the rest of the day. (Don't worry, Dole Whip. You still have our hearts).
Best rides to hit at Epcot:
Spent most of the day eating? We don't blame you. Limited on time or not, these are the best rides at Epcot.
Frozen Ever After- Replaced the Norway Viking ride.
Soarin' Around the World- A 4D, VR experience.
Living with the Land (for obvious reasons)- Educational ride about responsible farming.
Test Track- Experience a test ride on the track with Chrysler.
We recommend the rides prior to or well after eating. If you get sick, do as they say in Frozen and "let it go, let it go."
Download Your Free Guide to Vegan Disney
Planning a trip? Be sure to download your free vegan guide to Disney World!