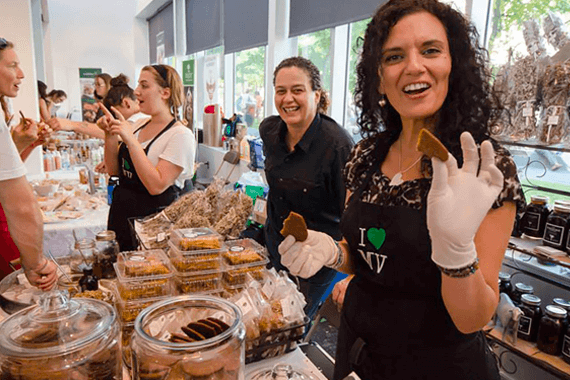 Montreal gives us magical thoughts of sweater weather, vegan food, and French flair. Sounds dreamy, right?
Add a festival into the mix, and we're already one foot out the door.
This weekend, The Electric Soul is road tripping across the border for a weekend at the Vegan Festival Montreal! And as a bonus, we are stopping in the vegan mecca of Toronto along the way. Canada is embracing the plant-based movement, and we are excited to share what we find and eat (so much eating…)
Vegan Festival Montreal
If anyone knows how to host a festival, it's Montreal. Throw in a bunch of compassionate, forward thinking people and you know it will be unforgettable. The festival, presented by Gusta, advocates vegan and plant-based eating and practices. It provides attendees the opportunity to explore and learn more about a cruelty-free lifestyle. The festival is a non-profit organization that impresses upon the ethical, health, and environmental benefits of a meatless community.
Vega, Copper Branch, Elan, and Yupik are a few of the sponsors for the weekend.
Event Details
The Vegan Festival Montreal runs from October 20th to the 21st, 10am to 5pm. It is held at the Montreal Convention Center [insert sexy French name]. Admission is free (say what?). The kickoff party, as well as yoga and some workshops, requires tickets. Check out their website and plan ahead.
What to Expect
Vegan Festival Montreal will have loads of vendors showcasing meat-free options. The festival is not limited to plant-based and vegan attendees. All are welcome to explore the world of plant-based eating (which is delicious). In fact, it's encouraged. Bring your meat eating friends and blow their minds.
The following activities are available at the festival:
Party! Montreal knows how to have a good time, so it's no surprise the festival kicks off with the FVM x Friends party. The event includes hors d'oeuvres and three DJs to keep you dancing.
Workshops. Workshops are held throughout the festival. The workshops evolve around all things vegan, including cooking and lifestyle. Workshops range in pricing—reserve ahead so you don't miss out. Languages include French and English.
Guest Speakers. The festival will host several talks throughout the weekend. Topics include animal rights laws, meat-free cooking, and animal ethics.  Jean Phillippe, the Buddhist Chef, is the spokesperson for the festival
Yogathon. Get your mind right with yoga on Saturday and Sunday. Classes raise funds for the Refugee RR. The cost is $20 and levels include beginner and intermediate.
Cooking Demos. Cooking demos are a fan favorite of vegan festivals, and we couldn't agree more. Chefs will prepare various vegan and plant-based dishes, with tips and tricks to prepare at home.
Tickets & More Information
Learn more about the festival and purchase workshop tickets here.
Travel with Us!
Stay looped in with our social media. We will be updating you in real time at the festival. We also will have a post festival recap, including photos and videos from the event. Not to mention, we will have new Electric Soul City Guides for Montreal and Toronto. Who is excited?! We are!
Hopefully, we'll see you there!
Photo source: festivalveganedemontreal.com / Guillaum Gibault