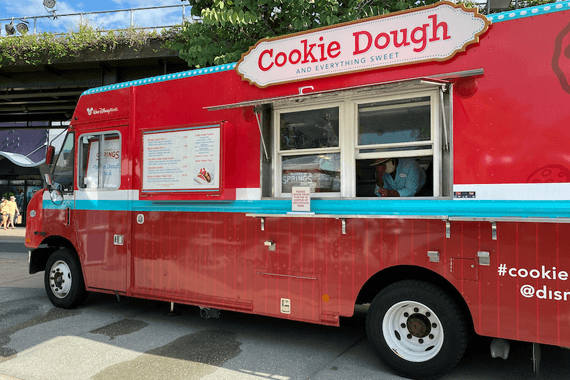 Goodbye, lockdown—and hello Disney Springs!
It's a strange time to be a traveler. As U.S. cities have begun to lift COVID-19 restrictions, we decided it was a perfect time to take a road trip to Disney Springs.
Initially, we didn't plan on "working" (we were much more focused on procuring some vegan sweets from Goofy's Candy Company). But to our happy surprise, we came across a new vegan option that we just had to share!
Cookie Dough and Everything Sweet Food Truck: Now Serving Vegan Cookie Dough!
Okay, we're a little late to the game on this one. You got us. But as they say, it's better late than never.
The Cookie Dough and Everything Sweet food truck arrived at Disney Springs in summer of 2019. The truck replaced the former Fantasy Fare truck, and we're pretty stoked about it. The new truck provides some much needed cool treats for those hot summer days, plus…
Vegan cookie dough!
That's right. In addition to Erin McKenna's Bakery and a bunch of other vegan restaurants at Disney Springs, this new truck further expands Disney's offerings for plant based eaters.
First up, we tried the vegan Cookies n' Cream Cold Brew. And it DID NOT disappoint. The Cookie Dough and Everything Sweet truck serves this delicious dessert in a variety of ways (Minnie Dessert Tacos, funnel cakes… you get the idea). Just be sure to mention you're vegan to avoid any surprises.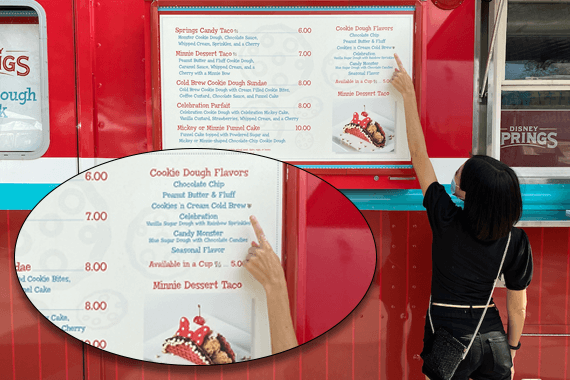 Unfortunately, Cookies n' Cream Cold Brew is the only vegan option—for now. If it's one thing we know for certain, it's that Disney is totally committed to making vegan options readily accessible throughout their properties.
So, hit Disney Springs (no cost to enter) and eat up some of that delicious vegan cookie dough. The higher the demand, the more likely we'll see more vegan flavors in the future!
Planning a trip to Disney?
We hit all 4 Disney World parks in just 24 hours—and documented everything. Don't miss this FREE guide: Disney World Vegan City Guide. Download your copy for an exclusive look at Disney World's best attractions, vegan foods, and much more!