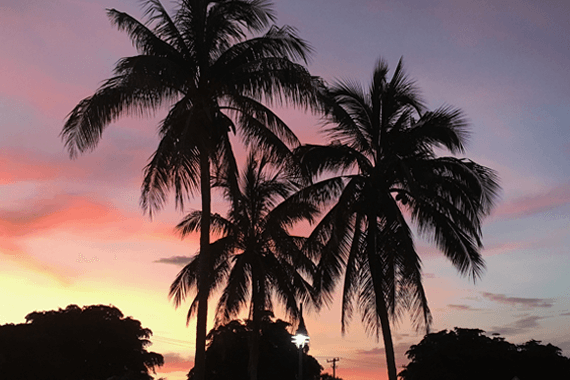 Sarasota might sound familiar to you because your "grandparents live there" or you have seen an MTV show called Siesta Key. However, Sarasota is known for much more than retirement, a reality show, and warm weather.
The city has rich history in art, music, wellness, and food. Plus, SRQ (that's Sarasota, folks) is home to the Ringling School of Art, the Van Wezel, Siesta Key Beach, and Mote Marine Laboratory (to name a few).
What we love most: Sarasota is morphing into a big little city with an eclectic mix of residents and a thriving vegan community.
Here's a short (non-inclusive) list of why we firmly believe Sarasota is a plant-based heaven for vegans.
1. Animal Rescues & Advocates
Residents of Sarasota are huge animal advocates. Go Sarasota! Rescue groups come in every form and include farm animals, elderly pets, off the track Thoroughbred and Greyhounds, strays, and marine life. Mote Marine Laboratory rescues and rehabilitates marine life. During sea turtle hatching season, volunteers safeguard the nests to ensure the baby turtle have a high chance of survival.
2. Farmers Markets
Sarasota supports local farmers with markets on weekdays and weekends. The markets are a great place to get fresh, seasonal vegetables and fruits for your plant-based meals. Food vendors sell hot and cold meals and snacks— we're big fans of the guacamole, of course. The vegan cheese and ice cream stand is a winner as well. Learn more here.
3. Artist Markets
Sarasota Supports local artists through indie markets and farmers' markets. The city has a huge art community, and many artisans create products unique to the community. Various flavors of Sarasota sea salt? Yes, please. The markets are usually held on Wednesday, Thursdays, Saturdays, and Sundays. The Atomic Holiday Bizarre is held before Christmas and attracts artisans from all over Florida. You will find some variation of vegan clothing, accessories, food, and treats at all of them.
4. Siesta Key Beach
There's nothing like salt air, sunshine, and an ocean breeze. Siesta Key is one of the most beautiful beaches in the world, and for good reason. The powder white sand and blue water are picturesque, and a great place to glimpse local wildlife. Take a walk there in the early morning or evening. The sunrises and sunsets are magical. So damn magical.
5. Vegan and Plant-based Restaurants
Sarasota has always been big on farm-to-table style dining. In fact, Sarasota was using farm-to-table practices before farm-to-table was a thing. Vegan and plant-based restaurants are popping up all over, with most restaurants offering many vegan friendly options. Some of the best vegan and plant-based friendly restaurants in Sarasota include:
Simon's Coffee House. Simon's has been a SRQ staple for breakfast and lunch for as long as we can remember. We don't remember life before Simon's and, quite frankly, we don't want to either. Simon's serves vegan, gluten-free, and raw options. Say hi to Simon because he is there 90% of the time.
Lila is a rustic, chic vegan friendly restaurant in the heart of downtown. Lila uses locally sourced produce, served for breakfast, lunch, and dinner. Lila is the perfect spot for an upscale causal date, lunch with friends, or family dinner. The space is open and vibrant, and the food is delicious.
Ionie Retreat and Raw Vegan Café. The name pretty much says it all. Ionie is a casual eatery in downtown, with patio seating. The food is raw, vegan, and unforgettable.
Green Zebra Café. Green Zebra is a charming café on St. Armand's Circle. It has vegan and raw options for breakfast, lunch, and dinner. The raw lasagna is one of the best we have ever had. Grab a seat outside and enjoy the ocean air.
Beauty of Sprouts. Beauty of Sprouts is intimate and casual, with a rotating menu of vegan dishes. The owner is almost always in-house, preparing dishes for guests. It is located downtown, so take a stroll through Main Street after your meal.
Browse these restaurants and more by visiting our top picks for the best vegan restaurants in Sarasota page.
6. Pet Friendly
Sarasota is a very pet friendly city. This stems from the animal love that envelops the community. Almost every restaurant and shop will accommodate furry friends. Dog bowls filled with water can be found outside Main Street shops, and most restaurants have dog friendly seating.
7. Sarasota Veg Fest
Sarasota Veg Fest is entering its second year on the scene. It is spreading the word for a compassionate, healthy, and eco-friendly world. Veg Fest hosts vendors from across Florida, as well as the U.S. We know this is the first of many vegan festivals for Sarasota. Check out more details here.
More Vegan-friendly Travel
Itchin' for more vegan-friendly travel ideas? Download one of our free Vegan Travel Guides for inspiration! Get an inside look at the world's best cities for vegan travel, like Portland, Montreal, Los Angeles, Miami, Walt Disney World, and much more!