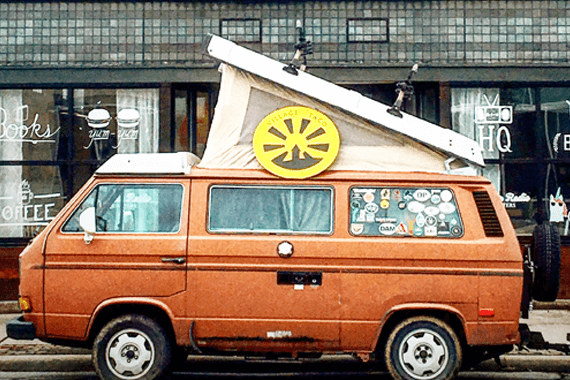 We'll drop anything for a vegan adventure. So, when we receive a text message that we "must check out this uber cool, vegan taco pop-up ASAP," we're there in a flash. The text came at 8:30pm, and man we're we glad that it did. We darted over to Shamrock's Pub in downtown Sarasota just in time to scope out the scene.
We followed our noses through the dark pub to an open patio (yes, we have a keen sense of smell for tacos). Outside, we came upon a eager crowd of Floridians gathered around a grill smoldering with all the right aromas. Admittedly, we were surprised and thrilled by the size of the turnout. Where have these Sarasota vegan taco lovers been hiding?!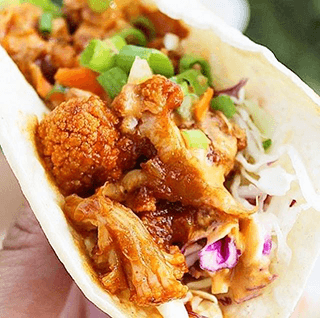 Through the pack, we saw the smiling faces of Jonny and Heidi Stone, owners of Village Taco. They were hustling orders while customers waited, eyes alight with excitement. Jonny and Heidi were beaming with pride—and we were proud of them, too.
Because, well, they crushed it.
One of the things we love most about vegan travel is finding hardworking and talented entrepreneurs. It takes a special type of person to forge their way into new territory. Village Taco is based in Alexandria, Ohio. We crossed paths with them on their pop-up tour, more than 1,000 miles from their home. We were lucky to find this duo and couldn't wait to share their story!
The Electric Soul
Vegan for the animals? Vegan for your health? Or a little bit of both?
Village Taco
Definitely vegan for both and the future of this incredible planet!
TES
We like the sound of that. What's most exciting to you about owning a vegan taco shop?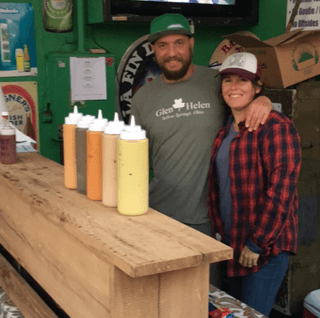 VT
Blowing minds with plant-based flavors and local, sustainable sourcing for a greater contribution.
TES
Village Taco is based in Alexandria, Ohio. Ohio isn't the first place that pops into mind when we think of vegan friendly locations. What's vegan life like in Ohio?
VT
It's getting really good, really quick in the cities but it's a bit of a hardship in the rural areas for now…
TES
How did Village Taco get started?
VT
We've been traveling veg since the mid 90's, creating and perfecting recipes and getting great feedback from friends and fam. We felt like it was time for a bigger platform.
TES
Building a brand takes some serious blood, sweat, tears, and taco breaks. What has been the biggest triumph and toughest hurdle?
TV
The biggest triumph has been all the positive feedback and the feeling of finding our tribe in the midst of it all. Biggest hurdle has been the build-out of the restaurant while supporting and staying strong as a family.
TES
Tribe, family… you hit us in the feels. What's a typical reaction when people find out that your tacos are vegan? What's the most memorable reaction?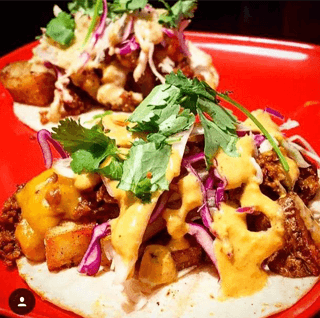 VT
"YESSSSS! It's ALL Vegan?!?!  Dude!! Seriously?! WTF is this even??"
TES
That reaction is epic! Everyone loves a good taco. Which one is the fan favorite? Which one is your favorite?
VT
Fan Fav is fosho the Dirty Sunrise (ground beaf, house made K-SO, crunchy taquitos, lacy cabbage and our smoky sweet pepper Krack sauce…uh, its LIT).  The Triple P is our fav, so far… (pineapple, plantain and bakunized portabello in our house made spicy bbq sauce, lacy cabbage with lemon pepper mango Krack sauce…insanely tasty) can't even read it without our mouths watering!!!!
TES
Our mouths are watering too… What inspired taco pop-ups?
VT
It really started with our good friends letting us pop up at their brewery/restaurant Three Tigers/ Mai Chau to help build the buzz before opening. We then got involved with the Columbus vegan community and have had amazing results with our brunches at Two Dollar Radio, an Indy book publisher/Vegan Cafe in Columbus which has opened the door to tons of inquiries and events like Taco Tuesdays at The Draft Room in Westerville.
TES
Ok, we're definitely adding Columbus to our list. Which cities are you most excited to visit? Which city has been your favorite?
VT
We are looking at Breckenridge, Colorado for our next, out of state, pop-up in February, but we are really eyeing the L.A. Vegan Taco competition and events like it all over the country.
TES
You're taking home the gold, we know it. What does the future of Village Taco look like? 
VT
We hope to get the brick and mortar running smoothly by summer and begin the Expanded Taco Tour, hitting Veg-Fests from coast to coast and poppin' up here and there for one day events. We sold pizzas on Phish tour out of our VW bus in the 90s, so I guess you could say the future means getting back to our roots—traveling to amazing places and sharing our food with the awesome people we meet!
TES
Phish tour and VW bus. Can we marinate in that for a minute? You guys are awesome. Veganism is pinned to be the biggest trend of 2018. How does that make you guys feel?
VT
It always feels amazing when people trend in a positive direction for whatever the purpose may be but it means a lot in terms of compassion.   Maybe-hopefully- it's the great awakening we've all been waiting for!
TES
Cheers to that! What's the biggest misconception people have about being vegan or in your case, owning a vegan restaurant?
VT
Bland tacos with raw, unseasoned tofu.
TES
Wait until you hit them with a VT taco. You'll blow their minds. One piece of advice for fellow vegan entrepreneurs?
VT
If your heart is in the right place and your food or product is on point, you hold the world in the palm of your hand, sculpt it how you want it!
TES
Spoken like true hustlers. Thank you for sharing your story!
Heidi and Jonny have us feeling all types of inspired. And hungry. So hungry.  We suggest booking a flight to Alexandria, Ohio to visit Village Taco. Until then, stay in the loop with Village Taco by following them on Facebook and Instagram. Let us know which VT taco is your favorite with #ESVillageTaco.  And, you know, save us a bite.