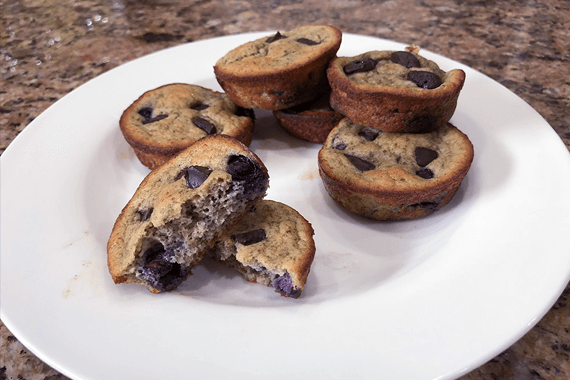 So. You're road tripping and find yourself in Northern Texas. Or Oklahoma. Or some other place where "vegan" options are limited to iceberg salads with stale croutons.
Yeah, we've been there.
This blueberry vegan muffin recipe is the perfect thing to cook up when you're traveling and have access to a kitchen. They are light, fluffy, and ooey-gooey delicious when they first come out of the oven.
Best of all, they are mostly made of banana, blueberries, chia seeds and coconut cream. No—these aren't your typical blueberry muffins. This recipe will treat your taste buds, without making you feel carbed-up and sluggish. Not surprisingly, we recommend these blueberry vegan muffins to active travelers, or anyone who wants to stay fit while traveling.
We also recommend immediate consumption (sharing, of course, with any furry friends you might have joining you for breakfast).
Vegan Blueberry Muffin Recipe
DRY INGREDIENTS
1 cup almond flour
1/3 cup stevia
2 tsp baking powder
1/8 tsp sea salt
"WET" INGREDIENTS
1 large banana, peeled
1/4 cup melted coconut oil
1/4 cup coconut cream (can sub regular cream or almond milk)
4 Tbsp chia seeds
1/2 tsp vanilla extract
EXTRAS
1 bag vegan dark chocolate chips
1 basket of organic blueberries
DIRECTIONS
In the video above, we use a blender to mix the wet ingredients first, then add the dry ingredients in separately. Below, we explain how to make this recipe without a blender. Cause you never know what your AirBNB host will provide…
Preheat oven to 425
Whisk all "dry" ingredients together in a bowl
Whisk all "wet" ingredients in a separate bowl (note: begin be smashing the banana first)
Whisk dry & wet ingredients together
Grease cupcake pan & pour about 1/2-3/4" mixture into each cupcake hole
Note: If you don't have a cupcake pan, you can create 1-2" dollops on a regular cookie sheet instead
Add about 4 blueberries to each muffin
If you have extra batter, you may top-off each (try to bury the blueberries)
Add 3-4 dark chocolate chips to each
Give each muffin a little stir to make sure chips are mixed in/ beneath surface (Virgos read: evenly distributed)
Bake for 20 minutes