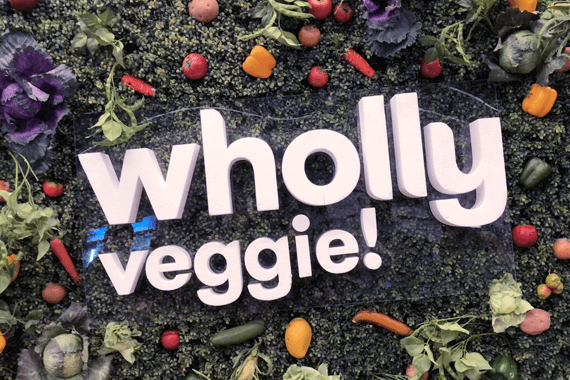 Another festival has come and gone, leaving us with new friends, delicious recipes, and a whole DropBox full of pictures and videos. Road trip and festival documentary is in post-production now—stay tuned!
In the meantime, we want to highlight a few of our favorite finds from the Montreal Vegan Festival 2018. We were excited to see so many unique vendors offering a crazy spread of treats, supplements, cosmetics, and yes, even a revolving garden that will fit in your kitchen.
Who said vegans don't know how to get down?
Check out these forward-thinking companies and entrepreneurs, and don't forget to give them a holler on social media!
Technology
O Garden. What's the hardest part of following a plant-based diet? Well… plants.
Fresh produce makes it easy to enjoy salads, bowls, and other leafy meals. On the flip side, it's hard to get excited about wilted lettuce and stale kale.
O Garden makes it easy to grow your own organic produce at home. This futuristic cylindrical garden rotates your plants around a grow light to keep your favorite veggies sprouting year-round!
Fashion
Vegan fashion made big strides in 2018, with global powerhouses like Marc Jacobs and Tom Ford introducing new cruelty-free lines. Not surprisingly, we found a lot of swaggy style at the Montreal Vegan Festival, especially at the Importations Lou exhibit.
Founded by Dominique Tessier, Importations Lou imports stylish vegan bags and accessories directly from artisans in France. A nutritionist and vegan beauty products consultant, Ms. Tessier started the company to share her love for fashion accessories—and her exclusive French finds—with locals in Quebec.
Our favorite? The Vegan backpack by Magnethik.
Men's Grooming
We were prepared to see a lot of cool things at the Festival. Vegan desserts, ice cream, make up, and—tattoos?!
That's right. Making our way to the center of the convention center, we stumbled upon a couple tattoo artists giving two brave (and totally rad) attendees vegan tattoos. Yes, they're a thing.
And that's when we met Brave and Bearded. New to the vegan scene, these rock stars offer a full line of male grooming products and accessories that are cruelty free and 100% badass.
Brave and Bearded was started by a guy name Max who was fired two weeks after refusing to shave his epic mane. So, Max started an Instagram account called Brave and Bearded to showcase "pics of cool guys with some kick-ass beards." That account blew up, creating 150k followers, several product lines, and a beautiful life lesson: No one is born brave. You become brave with all the stuff life throws at you.
We feel you, Max.
Animal Rescue
Also in attendance was the Fauna Foundation, Canada's only chimpanzee sanctuary.
From the foundation's website: The primary objective of Fauna Foundation is to create a protected environment for neglected, abused farm and domestic animals and former biomedical research chimpanzees.
Through education, the foundation aims to foster a deeper understanding of all animals, as well as human kind's ethical responsibility toward the planet. The foundation's volunteers were passionate, knowledgeable, and inspiring.
For more information, check out the Fauna Foundation website.
Planning a Vegan Vacay?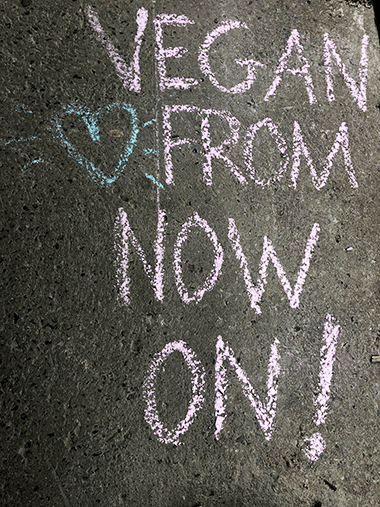 Cruise on over to our Vegan City Guides section! We have a growing collection of city guides written by plant based travelers to make sure you always know where to find the city's best street art, coffee shops, and vegan eats.
Download your FREE guide to cities like Miami, West Hollywood, and Toronto to get the most out of your next trip. Don't see what you're looking for? Request a guide, or submit your own by contacting us!