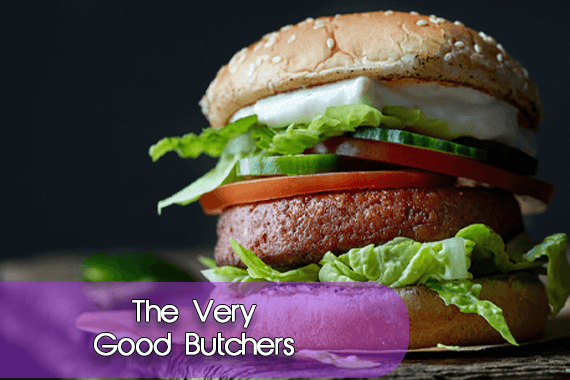 Very Good Butchers Vegan Meal Delivery: Is It Worth It?
Very Good Butchers is changing the game for plant-based protein. Don't let "Butcher" in their name scare you off. The only thing they butcher are beans and other vegetables. This innovative company has combined two of the last few years' biggest trends: Plant-based "meat", and subscription boxes. So, is a plant-based meat subscription right for you? Our Very Good Butcher Plant-Based Meat Subscription Review 2021 is designed to help you decide.
Were we excited to give it a test drive? You know it!
This 100% vegan and plant-based company created whole-food meat alternatives that taste and feel like the original, minus all the murder. Which is great, because weird textures and bland flavors are two of the biggest reasons people (especially omnivores) are slow to hop aboard the plant-based meat train.
The Very Good Butchers delivers products are inventive, flavorful, and nutritious. We loved many aspects about this service, which we'll dive into shortly. Will Very Good Butchers convince more people to sub-out meat for plant-based alternatives? We sure hope so!
100% Plant Based
Starting at: $49.99
Price per Serving: $1.25
Frequency: Schedule delivery every 30, 60, or 90 days
No pre-made meals available—but some meats require prep
Promotions: Varied. See website for details!
Price
| Excellent
The Butchers might be "very good", but we think the Pricing is Excellent. Getting started will only cost about $49.99, which comes out to about $1.25 per serving. Plus, subscription plans can be set to auto-renew every 30, 60, or 90 days. We think that's a perfect fit for a plant-based meat box, because not everyone likes to have meats with every meal.
Variety
| Very Good
There's only one reason The Very Good Butchers earns a 4 for Variety, and not a 5: It's all plant-based meat. Yes, it's savory with textures that are on-point. And yes, you can probably fool your omnivorous friends with many of these meatless staples. But as a "meal delivery service", The Very Good Butchers simply doesn't have as much variety compared to companies like Purple Carrot.
Ease of Use
| Excellent
The Very Good Butchers is at the top of its class in terms of Ease of Use. Everything felt uncomplicated and straight-forward, from signing up to scheduling deliveries. And while focusing solely on plant-based meat might reduce overall Variety, it certainly keeps things simple in the kitchen. We enjoyed being able to add meats on-the-fly, without being tied to 1 specific meal kit or pre-made entree at a time.
How it Works
Sign up:
The Very Good Butchers offer Butcher Boxes or individual purchases. Subscriptions are available with the boxes and you will save 5% on your order.  You will have the choice of delivery every 30, 60, and 90 days. Butcher Boxes are predesigned boxes of plant-based meats that you can cook up and add to your meals. Plant-based burgers, sausage, meatballs, and breakfast sausage are a few of the items you will find in their boxes. Ordering individually gives you the freedom to choice exactly what you want and how much you want of it.
Select Your Meals:
The Very Good Butchers offer an extensive variety of plant-based proteins and cheese to add to your meals. Some sample menu items include:
Ribs
Steak
Burgers
Sausage
Bangers
Taco stuffing
Pepperoni
Bratwurst
Metballs
Hot Dogs
BBQ Pulled Jackfruit
Cheddar Cheese
Gouda Cheese
Pepper Jack Cheese
Each package contains a few servings, which vary depending on the item. They require cooking and are intended to be added to a meal or serve as the start ingredient.
Pricing Review
Very Good Butchers starts at $1.25 per serving with multiple servings in a package. Their pricing is reasonable when compared to other meat alternative companies, especially considering you are getting quality whole-food ingredients.
Where Does Very Good Butchers Deliver?
The Very Good Butchers ship to the U.S., Canada, and U.K. Shipping is through UPS Ground and takes between 1-5 days for delivery. Items are shipped frozen and delivered to your front door.  If shipping takes longer than expected and your package arrives after 7 days, contact Very Good Butchers customer service. They will gladly assist with rectifying it for you!
Does It Taste Good?
The Very Good Butchers plant-based meats are delicious! They stand out with distinct flavors and natural texture. We think they are one of the best plant-based meats on the block. And we aren't the only ones. If you Google reviews for this company, you'll find many people raving about the taste, flavor, and customer service.
Social Proof: See What Customers Are Cookin' on Instagram
Giving Back
The Very Good Butchers have eyes on helping the planted with sustainable packaging. If you are curious, we recommend visiting the FAQ page on Very Good Butchers website to learn more about their commitment to recycling their packaging. The materials are made from Green Cell Foam which is certified compostable in industrial and back-yard facilities. Their website also offers various ways to recycle the materials.
The Very Good Butchers: Bottom Line
The Very Good Butchers is a delivery service that is good for people looking to try new plant-based proteins or someone who is new to meat alternatives. The menu items do require cooking, but the website offers recipes for creative meals made with Very Good Butcher products.
Review More Vegan Meal Delivery Companies
Return to the best vegan meal delivery services of 2021.