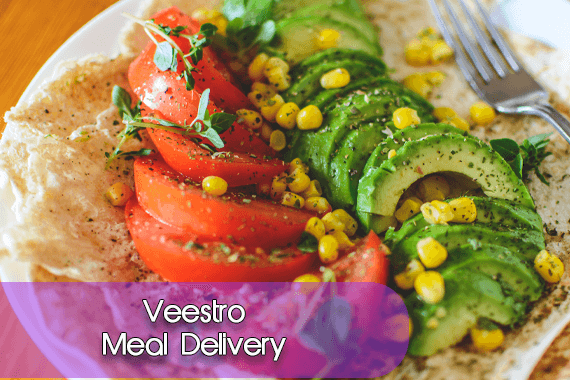 Veestro Meal Delivery Membership: Is It Worth It?
Plants for your health and plants for the planet. Now that's what we call a true win-win! Our Veestro Vegan Meal Delivery Review 2021 will break it down for you.
Veestro vegan meal delivery service strives to make it simple to eat healthy plant-based meals. They believe in making health-conscious vegan cuisine convenient, so you can enjoy every delicious bite. Less work, broader recipes, and more smiles. What's not to like?
The founders grew up in Costa Rica with a house full of fresh vegetables and fruits, and dishes that were exploding with flavor. They brought their experience and mission to the vegan meal delivery service arena. Sound interesting? You can listen to Co-Founder Monica Klausner talk about growing up in Costa Rica, eating well, and starting Veestro on the Influencer Podcast.
Veestro serves up fresh to frozen, full prepared, gluten-free, non-GMO, vegan meals. Read on to learn more about this service and how it compares to companies like Sunbasket and Purple Carrot.
Veestro Membership Overview
100% Vegan
Starting at: $117
Price per Serving: $11.70
Frequency: Weekly
Pre-made Meals Only (simply heat and eat)
Promotions: Varied. See Veestro.com for offers!
Price
| Very Good
With a starting price of $117, Veestro is another service that might give you some initial sticker shock. However, that intro price delivers 10 meals. Do the math, and you'll find that's just $11.70 per meal. That's actually lower than most meal delivery competitors, earning Veestro 4 stars in our book.
Variety
| Excellent
When it comes to meal selection, we love how many globally-inspired dishes there are. Overall, the Veestro menu has a wide range of meal types, flavors, and textures. Meals are premade so they only require heating. We recommend stove and/or oven for maximum deliciousness.
Ease of Use
| Excellent
Veestro gets a 5/5 for being very easy to use. Sign up, check out, and meal selection are all easy to navigate. And if you're pressed for time, you'll love how easy it is to warm/serve Veestro meals. If you'd prefer something you cook yourself, we recommend looking at competitors Sunbasket or Purple Carrot.
How It Works
Signing up with Veestro:
Veestro has a lot of flexibility when it comes to meal delivery. You can choose which meal plan best suites your needs then you select which meals you would like in your delivery.
Meal plans include 10, 20, or 30 meals. You can also choose if you would like meals every week, every 2 weeks, or every 4 weeks. For this review, we choose the 10 meals weekly option.
Veestro also offers a weight loss meal program for people who are looking to lose weight and eat plant-based. We did not try this part of the program, but we love that it's an option!
Veestro allows you to pause or cancel at any time. Finally, it's important to note that subscribe and save orders come with free shipping.
Reviewing the Veestro Menu & selecting meals:
Veestro meals are fully prepared, fresh to frozen dishes. Ingredients include organic, gluten-free, and preservative free. They arrive with specific cooking instructions for each menu item.
Since Veestro aims to make plant-based eating easy, the items only take a few minutes to heat, then it is time to eat. Veestro meals are mostly a plant-based take on traditional and global dishes. There is a large selection to choose from which is a major bonus. Menu items include some of the following:
Turkish Meatballs
Meatless Lasagna
Latin Stew
Kale and Quinoa Salad
Heart Bowl
Carrot Osso Bucco
Lentil and Spinach Tangine
Meatless Lasagna
Mushroom Risotto
Miso Udon
Jackfruit Jambalaya
Social Proof: See What Customers Are Cookin' on Instagram
Special Note: Look out for food allergies!
Veestro is conscious of food allergies and puts a lot of effort into labeling them on their meals. Below each meal description, icons show whether that meal is suitable for a specific diet. Veestro aims to disclose all ingredients so customers with sensitivities can make smart choices about their order. The company's customer service is there to help whenever you need or if you have specific questions about the meals.
If you are unsure of a dish as it relates to food sensitivities, reach out and they'll be happy to help. Veestro also works to prevent any cross contamination with potential food allergens and sensitivities. As a household with allergies and sensitivities, we really appreciate this effort.
Veestro Pricing Overview
Here's a summary of the most important Veestro pricing information:
Starting at: $117 (much higher than $75.35, the median price for other services)
Price per Serving: $11.70 (surprisingly lower than $11.99, the median price for other services)
Frequency: Choose between weekly, bi-weekly, or monthly deliveries (you are charged only when a delivery is made)
Free Shipping is available for all "Subscribe and Save" memberships
With a starting price of $117, Veestro is another service that might give you some initial sticker shock. However, that intro price delivers 10 meals. Do the math, and you'll find that's just $11.70 per meal. That's actually lower than most meal delivery competitors, earning Veestro 4 stars in our book. And if you opt for a "Subscribe and Save" membership, you'll earn additional savings via Free Shipping.
Delivery Review
Veestro delivers to all 48 contiguous states and meals arrive frozen in insulated boxes. Meals should be placed in the freezer or fridge after receiving them. Meals that will be eaten within 2-3 days can be placed in the refrigerator.
Veestro has a map on their website which details what day to expect your delivery based on your location, day the order was placed, and whether it is 1, 2 or 3 day shipping. It really stood out to us that they added this feature to their website.
Receiving delivery (and storing everything efficiently) is important. Having a feature like this was not just appreciated, but also unique compared to most of the other meal delivery companies we reviewed.
Meals, Tastes, and Flavors
Veestro meals are fresh, flavorful and unique. Many of the dishes are globally inspired which is something we loved. We felt like we were experiencing the world from home through plant-based dishes.
The dishes are flash frozen, so we were impressed by the texture of the dishes. They did not taste watery or mushy as some frozen dishes can be. We cooked our meals on a stovetop, which we feel helped the flavors and textures of the dishes.
If you microwave the food, well… let's just say we recommend not doing that. For optimal taste, we think it's worthwhile to use a stove or oven if you can.
Does Veestro Practice Sustainability?
Veestro believes in plants for our health and plants for our planet. By eating more greens, you are reducing your footprint on our planet. According to their website, plants yield more protein per acres and use less water than meat production. We love this vision—it aligns perfectly with what we believe here at The Electric Soul.
Packaging for Veestro meals are 100% recyclable BPA-free plastic pouches or 100% recyclable carton trays. The insulation is made with starch, so you dissolve it by pouring water over it. That's super cool, especially if you're cooking with kids (or a S/O who acts like one).
Bottom Line: Is Veestro Worth It?
Veestro is great for people who are looking for high-quality, convenient, and uniquely inspired plant-based dishes. It is a great program to check out if you are in search of a plant-based weight loss program too.
Overall, we think the pricing, variety, and ease of use makes Veestro a no-brainer. It might not have earned a Top 5 category award from us this year, but that doesn't mean it isn't worth trying. We certainly enjoyed it!
Review More Vegan Meal Delivery Companies
Return to the best vegan meal delivery services of 2021.