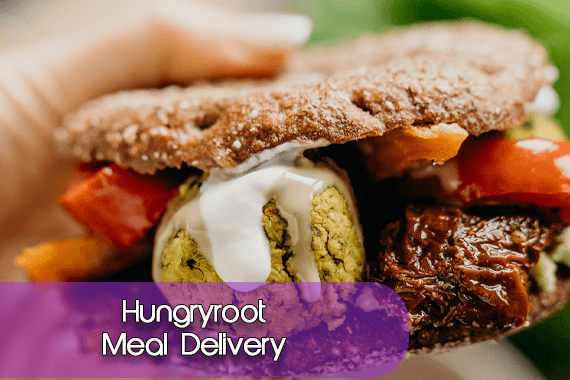 Hungryroot is your grocery trip—in one click. If you love to cook healthy meals with fresh ingredients but find recipes and trips to the grocery store too time consuming or draining (hand raised over here)… Hungryroot is a great option for you. Our Hungryroot Vegan Meal Delivery Review 2021 will help you decide.
Hungryroot believes that health and wellness is totally personal to you. The company has a 3-point standard for its food: nutrition, simplicity, and deliciousness. Yes, please!
And if a sustainably focused service is a priority for you, Hungryroot is a standout.  They are changing the face of food waste with their commitment to eliminate food waste from groceries.
Hungryroot Membership Overview
Vegan-friendly
Starting at: $59.94
Price per Serving: $9.99
Frequency: Weekly
Grocery delivery (you do the cooking)
Promotions: Varied. See Hungryroot.com for offers!
Price
| Excellent
Hungryroot subscriptions start at $59, which is a tad steep compared to other competitors. However, Hungryroot is still much more affordable than most other services. For example, average price per serving is $9.99, making it one of the best priced delivery services on a per-serving basis.
Variety
| Excellent
Ever walk into a grocery store and feel overwhelmed by the possibilities? Hungryroot is like that, minus the anxiety. Everything is sourced from local grocers, making menus and recipes are extremely varied. Plus, you can always spice things up by adding extra ingredients to your delivery.
Ease of Use
| Excellent
Hungryroot is a nice hybrid between meal and grocery delivery service. You pick the meals, and Hungryroot takes care of delivering all the fresh ingredients. We found this service incredibly straight forward and easy to use.
How It Works
Signing up with Hungryroot:
You will start by filling out a quiz and telling Hungryroot about your dietary needs, what you like to eat for dinner, the number of people you're feeding, and your goals. There is no passing or failing on this quiz. Just A+ for delicious meals!
Make sure to let Hungryroot know if you are strictly plant-based or vegan. Hungryroot will create a grocery plan based off your answers and fill your cart with suggested recipes and groceries.
After reviewing the suggestions, you can edit your cart to order exactly what you want. Choose your preferred delivery day and voila! Dinner is on the way. Plans start at $59 and can be updated at any time.
Reviewing the menu and selecting meals:
Hungryroot has over 3,000 recipes to choose from so the meals are up to you. It's a choose your own adventure type of program. Recipes range from salads, bowls, bakes to tacos, veggie noodles, and wraps.
Click on the recipe and Hungryroot will have a list of ingredients below the image. Compared to other meal/grocery delivery services, you may find the recipes to be a bit simple. That said, Hungryroot allows you to modify the recipe with additional flavors and spices. We love this added flexibility!
There are a lot of options, and we really enjoyed the freedom to pick exactly what we want. Spoken like a true Sagittarius.
Social Proof: See What Customers Are Cookin' on Instagram
Price: How much does Hungryroot cost?
Hungryroot subscriptions start at $59. It is a little more expensive to start compared to other competitors like Sunbasket and Freshly. However, Hungryroot is still well below most other meal delivery services. The average price per serving is $9.99, making it one of the best priced delivery services on a per-serving basis.
Here's a summary of the most important pricing information:
Starting at: $59.94 (way lower than $75.35, the median price for other services)
Price per Serving: $9.99 (also way lower than $11.99, the median price for other services)
Frequency: Weekly (this is most common)
Delivery Review
With Hungryroot delivery, you choose your preferred delivery day, and the carrier will deliver between their regular hours. Your Hungry Root order will be in transit for 1-2 days, depending on your location. But don't worry, packages have insulation and ice packs to keep the groceries fresh.
Once you receive your groceries, unpack, and refrigerate as soon as possible. You can skip deliveries by pausing the account prior to the payment processing. You can also cancel at any time.
Flavor: Do Hungryroot meals taste good?
Overall, we enjoyed the menu options and meals offered by Hungryroot. Here's a quick summary of freshness, quality, and cooking experience.
The ingredients from Hungryroot are fresh and flavorful.
The vegetables had great texture and were on par with what we would pick ourselves.
The recipes are on the simple side, but the freshness of the ingredients and sauces make up for that.
Cooking instructions are spot on, guiding you to cook everything to its perfect taste and texture.
As we mentioned before, if you are looking for much bolder spices, you could consider modifying the recipes.
Hungryroot meals you should definitely try
As a grocery-delivery app, this is where Hungryroot shines. The menu is big and diverse, even when whittled down to 100% vegan options only. That's because the app is sourcing food ingredients from your local grocer, so the options are wide open.
Here's a short list of the best recipes/meals we tried:
Plant Based Mushroom Melt
Beyond Burger with Sweet Potato Fries
Baby Broccoli Black Bean Burrito Bowl
Spinach Artichoke & Squash Ravioli
Super Greens Pasta
Sustainability and Giving Back
We love Hungry Root's commitment to the earth and our communities.
Hungryroot packaging is curbside recyclable and the gel in the ice packs is non-toxic and drain-safe. Here's a fun fact: You can cut open the corner and drain it into the sink or feed it to your plants!
Large grocery stores contribute to the average food waste of 40%. Hungryroot is conscious in sources only what they can use. Should excess food stock occur, they donate to local organizations such as the Community Food Bank of New Jersey, City Harvest, and The Barrio Fridge.
Bottom Line: Is Hungryroot Worth It?
We think Hungryroot is good for individuals or families who love to cook, but do not have the time to round up recipes and make a trip to the market. It is a great service for people who prefer to avoid long and crowded trips to the grocery store as well.
However, Hungryroot is not the best service if you need guidance on improving your health. Losing weight and improving your health markers often requires personalized coaching in addition to great food, which is something Hungryroot does not offer (at the time of this review). If you are looking to improve your health, we recommend choosing a service like Trifecta that includes personalized meal plans and optional nutrition coaching.
If you know what you like and want to simplify your grocery shopping process, then Hungryroot is one of the best options available!
Review More Vegan Meal Delivery Companies
Return to the best vegan meal delivery services of 2021.