Top Picks for Vegan Restaurants in South Beach
DIRT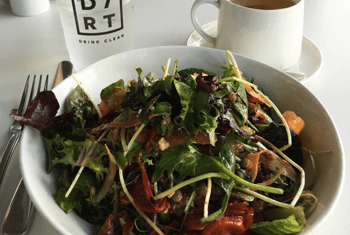 Restaurant type: Vegan-friendly
We can't say enough about this place. It's casual, farm-to-table dining that is just as affordable as it is tasty.
The food is fresh, light, and accommodates all dietary restrictions. Our favorite located is south of 5th street in South Beach, but two locations opened in Brickell and Sunset Harbor.
Read more: DIRT details…
Full Bloom
Restaurant type: Vegan-friendly
This upscale vegan restaurant was the first of its kind in South Beach.  They use local and organic ingredients to create elegant dishes. The presentation is just as beautiful as the location.
Good to know: Full Bloom is situated off Venetian Way, which places it walking distance from the Standard Hotel. So, shoot for dinner on a Sunday night then pop over to the Standard for Dirty Bingo. You won't regret it.
Read more: Full Bloom details…
Plant Theory Botanical Café
Restaurant type: Vegan-friendly
While we tend to shy away from Collins, this restaurant is worth the chaos. Plant Theory is in the Whitelaw Hotel. It's charming in that art deco meets modern Miami sort of way. They're open for breakfast, brunch, and lunch. The menu is non-GMO, locally sourced organic produce. They offer raw vegan options.
Read more: Plant Theory Botanical Cafe details…
Find More Vegan Restaurants
Heading back to the mainland? We got you covered! Check out our list of the best vegan restaurants in Miami, Florida!