Toronto is one of the top vegan destinations in the world. It is a cultural mecca, reminiscent of Miami (but clean. Did we mention clean?). While we love the French influence (and rivalry) of Montreal, Toronto is a diverse melting pot. It is an affordable, friendly city that combines new development with eclectic glamour. And it's healthy! Almost every store, coffee shop, and restaurant offers fresh, health conscious alternatives.
We fell in love the moment we saw the skyline and know you will too.
What to Pack
Passport
City Shoes
Jacket – depending on time of year
Bathing Suit
Reusable Water Bottle
GreenP Mobile Parking App (if you're driving, know that parking is crazy crazy)
Portable Phone Charger/ battery
Where to Stay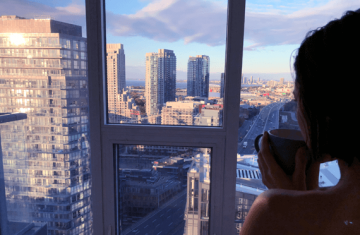 Gladstone Hotel. This meeting place for travelers is located between West Queen and Parkdale, Toronto's two most artistically-driven neighborhoods. It is one of our favorite places to stay. The history, the art—and that location?! We think the Gladstone is the quintessential place to rest your weary head after a day of walking Toronto's majestic neighborhoods.
Each room at the Gladstone Hotel is designed by a local artist, making your stay truly experiential. Plus, the hotel features art exhibits, karaoke nights, and "legendary queer parties" all on-site. We're confident you won't find a more unique and thought-provoking place to stay. [Map it]
Entertainment District (AirBNB). During our most recent trip to Toronto, we stay at a new condo in the heart of the Entertainment District. Our hosts were AMAZING, and so was the view (shout out to Fan on AirBNB).
Entertainment District features blocks of new buildings, restaurants, green spaces, and even a dog park for anyone who is traveling with a furry companion or two. [Map it]
Neighborhoods to Know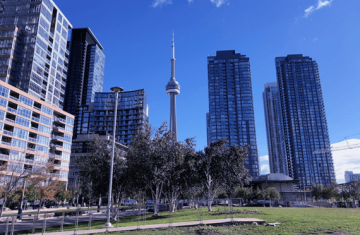 Yonge & Dundas. This is the official center of downtown Toronto. Known as the Times Square of Toronto, this area was recently revitalized in the 90s and is home to an eclectic mix of shops. [Map it]
Yorkville. Take the subway to Bloor/ Yorkville, walk West on Bloor Street, and you've arrived. Yorkville has a reputation for being an expensive neighborhood where the wealthy shop, but we think there's something here for everyone. Plus, Yorkville is home to Canada's oldest natural history museum, the Royal Ontario Museum. [Map it]
Harbourfront & Corktown. Warning: Avoid driving here. This area is home to Toronto's biggest tourist attractions, like Rogers Centre Stadium and the CN Tower, so traffic can get pretty heavy. Harbourfront is also where you'll catch the ferry, if you want to venture out across Lake Ontario (more on that later). [Map it]
Entertainment District. Theatres, nightclubs, lounges, and new restaurants—all centrally located relative to other noteworthy Toronto neighborhoods. What's more to say? [Map it]
Queen West, Chinatown, & Kensington Market. These 3 neighborhoods are clustered together, providing the perfect opportunity to walk through a few of Toronto's most diverse streets. If Bohemian is your vibe, look no further. Food, art, festivals and bars are the scene. [Map it]
The Annex, Koreatown, & Little Italy. Craving a more intellectually stimulating environment? Grab your copy of Tipping Point and cruise these neighborhoods, a favorite among Toronto's University crowd (and travelers who still like the scent of bookstores). Koreatown and Little Italy are self explanatory. This area is also home to Casa Loma, a castle we recommend you check out before hitting the road. [Map it]
Church & Wellesley. Known as Toronto's gay village, this vibrant neighborhood is a guaranteed escape from the mundane. The city is known as one of the most LGBT-friendly places in the world. Head East of Yonge on Church Street, track toward College & Bloor, and you'll see why. [Map it]
Day 1—Let's do this!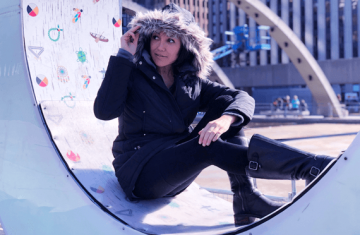 Cannabis and Coffee. We love a good coffee shop to start the day. And with Canada's recent legalization of cannabis, you can check-off two boxes with this stop. Toke easy, friends (if that's your thing). You have a full day of walking ahead of you! [Map it]
Ferry to Toronto Islands. After the morning pick-me-up, head down to Harbourfront to catch a ferry out to the Toronto Islands. Tickets are just $8 but be sure to buy them online as it's a popular thing to do. From the water, capture a few breathtaking shots of Toronto's skyline. Once you reach the island, there are a bunch of options for sightseeing. We recommend renting bicycles to cover ground quickly. [Map it]
Lunch at St. Lawrence Market. Once you get back to the mainland, head on over to St. Lawrence Market. Over 120 vendors and artisans share their passion for fresh produce and culinary arts at this 208-year-old farmer's market. We think this is the perfect place for your first meal in Toronto. As their website says, It's the living symbol and anchor of the neighborhood… a place to connect, to share stories, and of course, to taste and discover great food! [Map it]
Editorial Note: If farmer's markets aren't your thing, option to hop-scotch your way over to Hop Scotch, one of our favorite counter service options in the city. [Map it]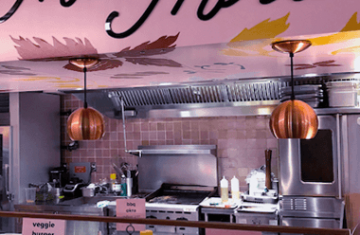 Walk Queen Street West – Graffiti Alley & Trinity Bellwoods Park. After lunch, head for the Queen West neighborhood to explore the artistic side of the city. Here, you'll find colorful views and a range of shops for clothes, shoes, and accessories. Graffiti Alley is one of our favorite places to photograph street art, so don't forget your camera. Plus, it's close to our favorite retreat: Trinity Bellwoods Park. Tall trees, sprawling grounds, and a serene landscape make this park a refreshing place to take a beat. [Map it]
Grab the ultimate selfie at Toronto City Hall. As the sun sets, head over to Toronto City Hall to catch a much needed photo op in front of the city's titular light-up letters. Afterward, take a short walk over to Old City Hall for a glimpse at Toronto's past. The architecture is stunning (especially the gargoyles). [Map it]
Dinner at Assembly Chef's Hall. Yes! Your day would not be complete without checking out at least one food hall! Assembly Chef's Hall caught our eye from blocks away. The street-side windows and walls are literally covered in massive signs that read PLANT BASED. Inside, they mean business. Although the food hall isn't totally vegan, you'll find a ton of great food options. Weather permitting, be sure to catch the courtyard in the back to enjoy drinks, games, and smiling faces. [Map it]
Nightscapes from CN Tower. It might be the most touristy of the touristy things to do in Toronto, but you'll thank us afterward. Built by Canadian National railway company, the CN Tower measures a massive 1,800' tall (over 550 meters) and delivers unparalleled views of the city. Open 'til 10:30—11 on the weekends—this observatory is the best place to capture breathtaking nightscapes of the city. [Map it]
Day 2
Kensington Market. You're closing in on the last few hours of your Toronto trip. Make the most of your last day by heading over to Kensington Market. Kensington is the bohemian heart and soul of Toronto. It is a multicultural neighborhood that is filled with bakeries, boutiques, vintage shops, coffee houses, and cafes. Kensington is the trendy destination for indie lovers and those that enjoy a local flair. [Map it]
Casa Loma. Mix gothic with castle and we are sold. A trip to Toronto is not complete without a visit to Casa Loma. The city's castle is a historic landmark and museum. It is the only full sized castle in North America. During the Halloween season, Casa Loma hosts nightly tours of the haunted tunnels and corridors. The castle is open 364 days a year, from 9:30 a.m. to around 4-5 p.m. It's equally as beautiful in the morning as it is when the sun sets in the evening. [Map it]
Extended Stay
Have an extra day or two in Toronto? Round out your trip with following neighborhoods and attractions: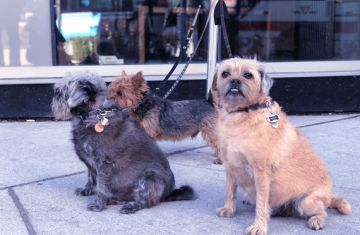 Yorkville.  Yorkville is a neighborhood in Toronto that is known for its posh, bohemian charm. Yorkville mixes upscale modern with historic allure. It's the place to see and be seen in Toronto. Designer shops, hip restaurants, and trendy boutique hotels add to Yorkville's appeal. It was once a hippie hangout that has developed into the most elegant area of Toronto. [Map it]
Niagra Falls. Niagra Falls State Park straddles the US and Canadian border. Three waterfalls can be seen from the park and it's breathtaking. Niagra Falls is one of the 7 wonders of the world, so it is definitely worth the trip. The park includes observation decks, boats, and trails to catch a glimpse of the rumbling falls. [Map it]
We are big fans of Canada for the warmth of its citizens, the beauty of its landscape, and the depth of its culture. There is so much to see in Toronto and the surrounding areas. It was difficult to whittle it down to 24 hours, but we know you'll love the list. We want to hear what you think! What are your favorite, must see spots in Toronto?
Travel with Us
Subscribe to The Electric Soul on YouTube, or Follow Us on Instagram!