Orlando—the land of the Mouse, Harry Potter, Book of Mormon and just about every convention under the sun.
With over 65 million visitors per year, Orlando is a top production hub, and one of the top family destinations in the world. Theme parks take the spotlight, but Orlando is diverse, well-kept city with unique neighborhoods and some of the best vegan restaurants in the U.S.
Whether you're a first timer, or an Orlando native, we have your ultimate guide to The City Beautiful.
What to pack
Walking shoes
Sunscreen: The sun is serious in Florida. Sunburns won't stop the party train.
Hat: It is possible for your hair to get extremely hot and your scalp to burn. We've been there. Mickey Mouse hats are encouraged.
Sunglasses: Protect those beautiful eyes.
Bathing suit: It is pool time almost all year round in Orlando. Most of the parks contain water rides as well.
Reusable water bottle: Stay hydrated, save the environment, and cut back costs with a reusable water bottle.
Backpack or a fanny pack. We fully support the fanny pack.
Snacks: Don't fret if you didn't pack these ahead of time. Orlando has several Whole Foods, as well as other health-conscious markets.
Mickey/Minnie ears and/or your Harry Potter wand: No explanation needed.
Where to stay
Aloft Downtown
Aloft Orlando Downtown is one of our favorite hotels in the city, and we think it's a must if you're staying downtown. It is a boutique hotel for the next generation traveler— creatives, entrepreneurs, and early adopters. The vibrant, unique space is an unforgettable experience—the type of place where you know you're on vacation, but feel like you're at home.
The Aloft has large, art-inspired guest rooms, a stylish lounge, and all of the amenities you need for work or leisure. It is centrally located: walking distance to nightlife and restaurants, easy access to theme parks, surrounded by vegan restaurants, and close to funky surrounding neighborhoods.
Plus, Aloft is pet-friendly. If you're reading the guide, you are an animal lover. Aloft is truly a pet-friendly hotel. At Aloft, pets are family and treated as such with their Arf program. They are welcome to stay with you, without a deposit or trouble. Pets receive their own amenities, which include toys, a bed, treats, and a water bowl.
Best of all, Aloft Orlando Downtown has their own adoption program. AOD fosters a pup at the hotel until a loving visitor gives him or her a forever home.
Is it any wonder this place captured our hearts? [Map it]
Where to eat
Ethos Vegan Kitchen
Ethos Vegan Kitchen is one of Orlando's favorite full-service restaurant. Located in Winter Park, north of downtown, Ethos' menu is 100% vegan with homestyle fare. Ethos is environmentally aware, as well as a socially responsible business and employer. Major points for Ethos Vegan Kitchen. [Map it]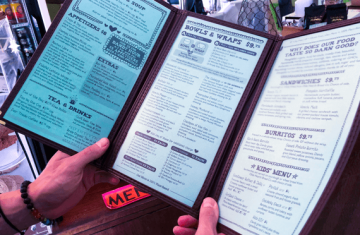 Dandelion Communitea Café
Dandelion Communitea Cafe is an organic eatery located in a 1920s space, just north of downtown. It serves up health conscious dishes, and premium loose-leaf tea. Dandelion practices social and environmental responsibility, and believes in the power of community and a local living economy. It hosts events such as full moon drum circles, poetry nights, live music, eco-networking, and art openings. So, can we move in? [Map it]
Market on South
Market on South is home to plant-based Valhalla Bakery and Dixie Dharma restaurant.  Dixie Dharma serves up savory southern favorites, such as fried green tomatoes and bbq pulled jackfruit.  Valhalla Bakery creates vegan sweets, like cinnamon rolls, doughnuts, and cupcakes. Death Bar will leave you wanting more.  Market on South is a shared market space that features locally produced goods and provisions. [Map it]
Tako Cheena
We love tacos. And we love funky restaurants. Meet Tako Cheena. The taco truck meets restaurant specializes in Mexican food with a pan-Asian flair. This unique little spot has some of the best vegan tacos (or takos) in Orlando. [Map it]
Deeply Coffee
Deeply Coffee is smack in the heart of downtown. It's one block in from Lake Eola, and the perfect place to start your day, grab a pick me up, or work. Deeply Coffee roasts come from Tampa's King State, and Spirit Tea rounds out their loose-leaf tea selection. The space is clean, open, and effortlessly chic. [Map it]
Foxtail Coffee
Foxtail Coffee is a rustic-industrial spot for house-roasted coffee, cocktails, and baked goods. It is lively, airy, and a great spot for people watching. Foxtail brings a whole new meaning to coffee shops in central Florida. There are two locations: Winter Park and downtown Orlando. Winter Park is the larger location, and very post worthy. [Map it]
The Greenery Creamery
The Greenery Creamery is a boutique ice cream shop in downtown Orlando. It has a variety of vegan flavors, as well as vegan donuts. Pairing them together always is a good idea. The vibe is as cool as the name. The earthy chic setting takes the guilt out of indulging. [Map it]
What to do
Walt Disney World
Orlando is synonymous with theme parks. More specifically, Walt Disney World. Walt Disney World is just that, its own world. It includes theme parks, water parks, resorts, transportation, restaurants, entertainment, shopping, and the list goes on. It is called the Most Magical Place on Earth, and we 100% agree. If you're a Florida native, you probably grew up going to Disney. If you're new to the Disney scene then in the words of Aladdin, we "can show the world. Shinning, shimmering, splendid."
Parks: Disney is comprised of four major parks and two water parks.
Disney Springs: Formerly Downtown Disney, Disney Springs received a makeover (ow, ow!) and is looking better than ever. Not only is a great place to take a stroll, but it also houses unique options for dining, shopping, and entertainment. It's a great stop if you're looking for a break from the parks or you want to experience Disney without the cost of a park ticket.
Universal Studios Orlando
Calling our Marvel and Harry Potter friends! Psst. Which house are you? Gryffindor and Slytherin here. Universal Studios Orlando is another world within a world in Orlando. Like Disney, it has its own restaurants, resorts, parks, entertainment, and nightlife.
Parks: Universal has three parks, including Universal Studios, Islands of Adventure, and Volcano Bay. Both Universal Studios and Islands of Adventure contain a piece of the Wizarding World of Harry Potter. Volcano Bay is Universal's water park.
City Walk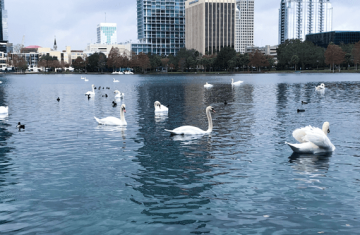 Lake Eola
Walk around the lake or rent a paddle boat. It's located downtown, just a short walk from the Aloft Downtown Orlando and deeply coffee. [Map it]
Lake Baldwin
Bike around Lake Baldwin, which is located is an upscale area that is close to downtown Orlando. It's filled with restaurants, shops, and parks. Lake Baldwin Park has a 2.5 mile around the lake, making it perfect for a bike ride or run. [Map it]
Tibet-Butler Nature Preserve
Tibet-Butler is a 440-acre nature preserve in Orlando. Six trails range in size, taking you through wetlands and flat woods. [Map it]
Kennedy Space Center
Take a day trip to Kennedy Space Center, under an hour east of Orlando. On your visit, train like an astronaut or visit a mission zone. If you time it right, you can witness a space launch. [Map it]
BK Adventure Bioluminescence Kayaking and Eco-Tours
Take a kayaking tour through Indian River Lagoon in see-through kayaks. Watch dinoflagellate bioluminescence shine as your paddle strokes the water.  [Map it]
Dr. Phillips Center for the Performing Arts
Catch a touring Broadway at the performing arts center in downtown Orlando. The center is known for community outreach and education. Check out shows like Chicago and Hamilton, or jump in a class. [Map it]
Orlando Vineland Premium Outlets
The outlets in Orlando are big hit with the international crowd. The Vineland Premium Outlets are in Lake Buena Vista, a short drive from Disney Springs and the parks. Snag great deals on some of your favorite brands. [Map it]
You're beautiful, Orlando!
We love this city, and we know you will too.
Enjoy your travels in Orlando, and be sure to share your photos and videos!